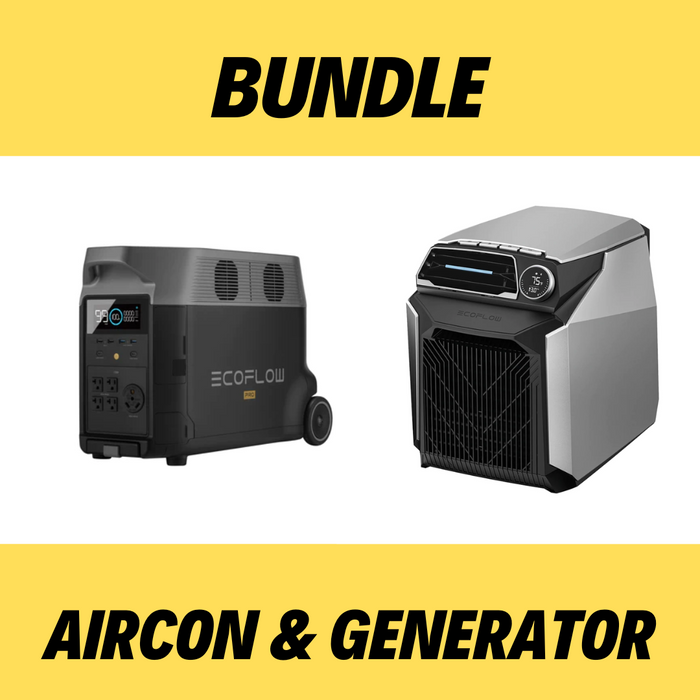 (BUNDLE) EcoFlow WAVE & Delta Pro - Portable Air Conditioner & 3600Wh Portable Generator Bundle
EcoFlow WAVE Description

Introducing EcoFlow Wave. The portable air conditioner, air-con with the world's most powerful cooling and the longest run time. Keep cool wherever you go.
Details
Car Charging Input 200W, 12V/24V, 8A Max
Add-on Battery Power 600W
Capacity 1008Wh
Net Weight 17.5kg
Rated cooling power (AC/DC) 460W/410W
Max. Cooling Power (AC/DC) 600W
Cooling Capacity 1200W
Ambient Temperature (C) 5°C ~ 50°C
Cooling Temperature Settings (C) 16°C ~ 30°C
Circulation Air Volume 290m3/h
Refrigerant/amount R134a/14.1oz
No-Drain Function
Noise level <55dB
Batteries Supported
EcoFlow DELTA Max
EcoFlow DELTA Max Extra Battery
EcoFlow DELTA Pro
EcoFlow DELTA Pro Extra Battery
EcoFlow WAVE Add-On Battery
EcoFlow Delta Pro Description

Portable, battery-operated electricity generator.
*Comes fully charged for first usage.

Outputs
- AC Output 3600W
- Surge Output 7200W
- Max Device Power Supported by X-Boost 4500W
- Capacity 3600Wh
- AC Outlet x 4
- USB-A Port (12W) x 2
- USB-A Port (Fast Charge, 18W) x 2
- USB-C Port (100W) x 2
- DC5521 Output x 1
- Car Power Output (126W) x 1

Details

Rated Wattage: 3600W
Surge Wattage: 7200W
Max Device Power Supported by X-Boost: 4500W
Capacity: 3600Wh
Fuel Type: Battery Powered
Dimensions: 63.5 x 28.4 x 42cm
Dry Weight: 45kg
Etc.
Unsure of which generator to rent? Visit our guide here!
Do check out our general safety tips before renting a generator!
Need more power or a rental of more than 7 days? Let us know!